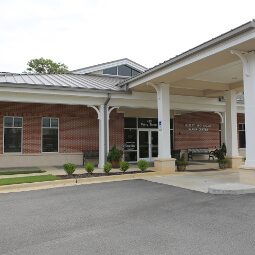 Harris Center
425 Perry St
Phone: (334) 501-2930
Hours:

M-F: 8AM-5PM

Sarah Cook
Community Programs Coordinator
Phone: (334) 501-2948
Email: scook@auburnalabama.org
We had lots of fun at Camp Kaleidoscope in 2021! Check back in January for information on how to register for Camp K in 2022!
Join us for lots of fun this summer at day camp! Each week of camp is filled with games, activities, swimming, art projects, special guests, and field trips. $135/week; $100/week for each additional sibling. Payable to COA. . Camp Kaleidoscope is for kids ages 6 to 12.
PLEASE READ ALL INSTRUCTIONS PRIOR TO REGISTRATION!
Location: East Samford School (322 E Samford Ave, Auburn, AL 36830)
Time:
Drop off - begins at 7:30 a.m.
Camp - 8:00 a.m. to 5:00 p.m.
Pick up - campers must be picked up by 5:30 p.m.
Camp Sessions:
Week 1 - 6/1 - 6/4
Week 2 - 6/7 - 6/11
Week 3 - 6/14 – 6/18
Week 4 - 6/21 – 6/25
Week 5 - 7/5 - 7/9
Week 6 - 7/12 - 7/16
*No camp week of 6/28 – 7/2*
**Camp slots fill quickly. Early registration is encouraged.
Camp K Cancellation and Refund Policy
*Cancellations must be made by Wednesday at 5 p.m. prior to the week you are cancelling in order to receive a refund.
• All refunds will be processed through the City of Auburn; not ACTIVE.
• Refund checks will be mailed 2-4 weeks from the day of cancellation.
Registration Instructions
• If you do not already have an account with Active, consider making one before the registration date.
• First, add each session you wish to attend to your cart and then change the quantity to match the number of children you wish to send each week. This should hold your spots until you complete registration.
• If you have entered sessions for more than one child, enter the name of one child for all of their sessions first before entering the name for the second or third child.
EXAMPLE:
Camp Kaleidoscope Session 1 – John Doe
Camp Kaleidoscope Session 2 – John Doe
Camp Kaleidoscope Session 3 – John Doe
Camp Kaleidoscope Session 4 – John Doe
Camp Kaleidoscope Session 5 – John Doe
Camp Kaleidoscope Session 6 – John Doe
Camp Kaleidoscope Session 1 – Jane Doe
Camp Kaleidoscope Session 2 – Jane Doe
Camp Kaleidoscope Session 3 – Jane Doe
Camp Kaleidoscope Session 4 – Jane Doe
Camp Kaleidoscope Session 5 – Jane Doe
Camp Kaleidoscope Session 6 – Jane Doe
• Please make sure you include all allergies and medical information that will be important for us to know. We also will not allow anyone to pick up your child from camp that is not a parent/guardian or on the pick-up list so please make sure that section is completed if anyone other than a legal parent/guardian will be picking up your child.
• You MUST sign the Camp Kaleidoscope Rules Waiver, the COVID-19 Waiver, and Active Agreement and Waiver. It is not necessary to bring a hard copy to camp.
• A discount of $35 per week will be applied to all sessions where more than one child is registered. This is known as our sibling discount.
• You will have the option to pay in full or enroll in a payment plan. A 50% deposit will be required if enrolling in a payment plan and the balance must be paid in full by May 3rd.
• If for some reason you are only able to register one child and the other child ends up on the waitlist, please contact scook@auburnalabama.org
*COVID-19 Note: Due to COVID-19, campers will be required to wash/sanitize their hands upon arrival to camp as well as before and after each activity. If an activity requires supplies, each camper will be given their own supplies and will not be permitted to share. Staff will clean and sanitize camp areas (including bathrooms) after each use. Mask are required indoors. Masks will be required outdoors if a six-foot distance cannot be maintained. If a camper or staff member begins to show ANY symptoms of COVID-19 while at camp the following steps will be taken:
• The sick staff member will be sent home immediately.
• The sick camper will be isolated from the camp in a separate room with proper ventilation. Only one staff member (a supervisor) is permitted to accompany the child.
• The parents and/or emergency contact will be called to immediately pick up the child from camp.
• The sick camper will be required to wear a face mask until they are picked up from camp.
• Any child or staff member in attendance that day will not be permitted to attend/work another pop-up camp until that camper/staff member tests negative for COVID-19 or 14 days have passed. A parent's refusal to test their child will mean their child/children will not be allowed to attend another pop-up camp for a minimum of 14 days.
• A refund will be issued for any child sent home due to COVID-19 or required to stay home during future camp sessions
Contact: Sarah Cook • (334) 501-2948 • scook@auburnalabama.org