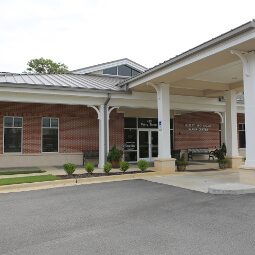 Harris Center
425 Perry St
Phone: (334) 501-2930
Hours:

M-F: 8AM-5PM

Ann Bergman
Public Relations Specialist
Phone: (334) 501-2936
Email: abergman@auburnalabama.org
LeisureLink: The City of Auburn's Parks and Recreation Weekly Newsletter
The Week of June 7 - 13, 2021
SummerNight Downtown Art Walk and Starting Line Party Parade Friday, June 11
The SummerNight Downtown Art Walk, hosted by the City of Auburn's Jan Dempsey Community Arts Center, Auburn Arts Association, Caroline Marshall Draughon Center for the Arts and Humanities (Pebble Hill) and the Auburn Downtown Merchant Association is almost here! Make plans to come downtown for an art-filled evening of fun on Friday, June 11, from 6-10 p.m. SummerNight is a FREE downtown entertainment district event.
An Artist Marketplace, parade, live music, late-night shopping and dining as well as children's activities are just some of the fun features SummerNight has to offer. In addition to all of the great activities, the community has the opportunity to participate in a Love & Lemons culinary contest. All culinary entries should be submitted Friday, June 11, from 8 -11 a.m. at the Jan Dempsey Community Arts Center. Winners will be announced at 7:15 p.m. on the SummerNight stage located at Toomer's Corner.
SummerNight's entertainment features The Student Section. The Student Section is a group of friends and musicians who met in Marietta, Georgia, who are now based in Auburn, Nashville and Atlanta. The band has created an exciting musical experience for audiences of all ages and tastes. Along with the Student Section, SummerNight will open with a Jazz group produced by Magnolia Records. The Jazz musicians include Auburn University professors, alumni and current music majors. Each performance will be unique and will explore their love of musical expression.
We also welcome individuals, groups and organizations to come out and participate in our parade to kickoff SummerNight! We will begin the SummerNight festivities with a Starting Line Party at Pebble Hill at 5 p.m. featuring free face painting, music and lemon themed parade crafts! We will also be giving away FREE lemon popsicles courtesy of the Auburn Arts Association and Pebble Hill. At 6 p.m., Starting Line Parade Party participants may join in as we parade to Toomer's Corner. The parade will conclude with a special performance by Variations Dance Studio to officially kick off the 14th annual SummerNight Downtown Art Walk!
Please note, College Street (from Thach Avenue to Tichenor Avenue) and Magnolia Avenue (from Wright Street to Gay Street) will be closed to traffic from 5:15-10:30 p.m. for the event. A portion of North Debardelaben Street as well as Magnolia Avenue (from Debardelaben to Gay Street) will be closed from 5:30–6:15 p.m. for the Lemonade Parade.
Family Fitness Day at Samford Pool
Join us Saturday, June 12th at Samford Pool as we celebrate National Family Health and Fitness Day. National Family Health and Fitness Day is celebrated the second Saturday in June each year. This special day promotes the importance of parks and recreation in keeping communities healthy. We will offer FREE admission to Samford Pool, along with water games for the whole family to enjoy. Families are encouraged to come out and spend their day at the pool or go out and enjoy one of our parks in Auburn.
Samford Pool is open Saturday 10 a.m. - 6 p.m. for more information call Samford Pool at 334-501-2957 or email activeauburn@auburnalabama.org.
The Gouge Center & JDCAC presents Summer Film Series
The Jay and Susie Gogue Performing Arts Center at Auburn University and the Jan Dempsey Community Arts Center (JDCAC) are excited to announce the Summer Film Series. Join us at the Amphitheatre at the City of Auburn Lawn and Porch for free outdoor screenings of Disney's live-action "Cinderella" on Thursday, June 17 and Pixar's animated favorite "Ratatouille" on Thursday, July 15.
"Cinderella" is directed by Kenneth Branagh and stars Lily James, Cate Blanchett, Richard Madden and Helena Bonham Carter. A girl named Ella (Cinderella) lives in a cruel world filled with evil stepsisters and an evil stepmother out to ruin her life. Ella becomes one with her pure heart when she meets the Prince and dances her way to a better life with glass shoes – and a little help from her fairy godmother, of course.
"Ratatouille" is directed by Brad Bird and Jan Pinkava and stars (voices) Patton Oswalt, Ian Holm, Lou Romano and Brian Dennehy. In one of Paris's finest restaurants, Remy, a determined young rat, dreams of becoming a renowned French chef. Torn between his family's wishes and his true calling, Remy and his pal, Linguini, set in motion a hilarious chain of events that turn the City of Light upside down.
Amphiteatre gates will open at 6 p.m., and movies will start at 7 p.m. Come early and participate in thematic and interactive art activities provided by JDCAC and the Jule Collins Smith Museum of Fine Art. Movie-themed concessions will be available for purchase from the Hotel at Auburn University and Dixon Conference Center.
These events are FREE, family-friendly and open to the public. Guests are encouraged to bring blankets or soft seat cushions to enjoy the movies. The Gogue Center adheres to a clear bag policy for all outdoor events and follows the guidelines established by Auburn University for game days at Jordan-Hare Stadium. Make sure to visit goguecenter.auburn.edu to review all policies, protocols and procedures.
For more information, contact the Jan Dempsey Community Arts Center at (334) 501-2963 or visit auburnalabama.org/arts.
Day In Clay
This summer, the Dean Road Ceramics studio will host its annual Day in Clay open house event on Saturday, June 26th from 1 – 4 p.m. The event will take place at their studio, located inside the Dean Road Recreation Center at 307 South Dean Road.
This annual event is an opportunity for the public to tour the fully-equipped studio, enjoy complementary snacks, and watch sculpture and throwing demonstrations by studio members. Participants are also invited to create a hands-on project with studio instructors. Guest may select an adult or kid's ceramic project to create for $10/each with the choice between a hand-made ceramic pocket wall planter or a dog/cat fold-over style statue.
All projects are led by Dean Road Ceramics Studio instructors and will be taught every hour, on the hour, from 1 – 3 p.m. Make plans to arrive 10 minutes prior to each hourly lesson to ensure that you do not miss any instruction. Participants wishing to partake in the hands-on clay experience must register and pay at the Harris Center. Walk-in's may be accepted day-of based upon availability, but spaces are limited so register today!
Come learn all about the benefits of a studio membership and discover a variety of ceramics classes and programs offered each quarter! For more information, please contact Emillie Dombrowski, Art Education Specialist, at edombrowski@auburnalabama.org or (334) 501 – 2944.
The Auburn Stride Walkers Schedule
After being postponed for COVID-19, the Auburn Stride Walkers are back! The Auburn Stride Walkers is a program for citizens who are interested in walking various City walking trails as a group.
Walks will be held on Mondays, Wednesdays, and Fridays at 8:30 a.m. Participants can walk at their own pace and distance. The Auburn Stride Walkers is a great way to have fun, make friends, and walk your way into a healthier lifestyle.
UPCOMING SCHEDULE:
Jun 7 Auburn Public Library Located at 749 East Thach Ave
Jun 9 Yarbrough Tennis Center Located on Richland Road
Jun 11 Charlotte & Curtis Ward Bike Path Located across from entrance to Chewacla State Park
City Market returns to Town Creek Park every Saturday throughout the summer
City Market will be at Town Creek Park every Saturday morning this summer through August 28 from 8 to 11 a.m. this summer. The purpose of City Market is to help local farmers, growers and artists sell their fresh, local and handmade products to the community.
Parking will be available for all market attendees in the gravel parking lot across from Town Creek Park.
We look forward to seeing everybody again at City Market this summer while still enforcing social distancing and sanitation guidelines. High-risk community members and those feeling ill should not attend. Due to health code regulations, animals are not allowed near vendor tents.
For more information about upcoming markets, please follow City Market on Facebook and Instagram @citymarketauburnal or visit https://www.auburnalabama.org/parks/programs/city-market/.
Yarbrough Tennis Center Updates
Check out the 2021 Auburn Parks and Recreation's spring brochure for information about tennis clinics. Auburn Parks and Recreation offers tennis clinics for children and adults. For more information visit www.auburnalabma.org/parks to view the brochure online or contact Sarah Hill at shill@auburnalabama.org if you have additional questions.